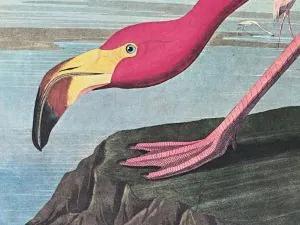 Fine Art Gallery 9 - All Audubon Double Elephants
Double elephants are huge Audubon prints measuring about 28 x 39 inches. "Double elephant" is an English term denoting the large size of the paper. They are facsimiles, meaning they are the same size as Audubon's originals. Noteably, the birds in the foreground of Audubon's double elephants are all life size.

This gallery consists of three main editions.
1) The first is The Princeton Audubon Double Elephant Edition. Of this edition, Audubon author William Stiener wrote, "True color, exceptional detail, great paper. Simply the finest Audubon prints ever made!" (More reviews) They are in fact the world's only direct camera Audubon lithographs. These are printed on paper which most closely resembles the look and texture of the Whatman paper used by Audubon himself.
2) The second is The Rare Prints Edition.These are also double elephants, only giclees. Giclees are produced by spraying the ink on the paper and generally are a heavier paper. They are ecxceptionally well-done and we have agreed to sell them along with our own Princeton Edition. 
3) The third is The Princeton Audubon Fine Art Edition. This is our growing selection of Audubon giclee compositions derived from our own Audubon/Havell originals. Again, the detail and color is outstanding.
We also have included a few extra prints from our archives which were double elephants, but have been slightly trimmed. These are hand-colored prints. If the edition is known we have clearly stated it in the descriptions.